Apologies for the late post. I forgot.
Today it's time for round two of my quick reviews, in which I will give a quick opinion about a few shows that aired in the Winter 2021 season.
Quick Review: Sk8
I talked about a few shows early on during the season, giving a first impression. Sk8 was one of these shows, and I think this show was the one that surprised me the least as the season went on. I liked inline skating as a young teenager, but I had many friends who enjoyed skateboarding, some of which were very good at it as well. Spoiler alert, I was never that good, but they were nice people and it was great fun hanging out in the skatepark.
Sk8 the anime does kind of nail that feeling in a sense. It really feels like a fun community that all has the same hobby and is trying to have fun doing it. Obviously there was the villain, who was as over the top as he was good at skateboarding. This show is just fun. Shadow is a great comedic heel because he's such a nice guy in his normal persona, Joe and Cherry bickering is fantastic and although I'm a straight man, Cherry definitely has a hot design. I'm just saying.
If you like skateboarding and just feel good shows with a bit of drama then I highly recommend giving Sk8 a watch.
Quick Review: Dungeon Boonies
Suppose a dense motherf**ker wanted to join the military but minor inconveniences keep getting in his way. I don't think that's the literal translation, but it's accurate nonetheless. This show wasn't amazing, didn't do anything particularly new or reinvented the genre by any means. This show was just fun. The characters are fun, with all the girls having their own fun personality, the plot is fun with silly problems that are way below the main character's paygrade. Lloyd is the textbook definition of overpowered, which is why he's mostly kept on the sideline. The actual story later on doesn't really do it for me, but I thoroughly enjoyed the character interactions and humor. Not the best show to air this season, but definitely worth watching it if you're bored and need a quick laugh.
Quick Review: Horimiya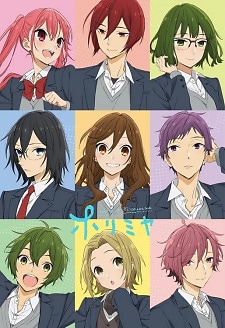 I mentioned this earlier in the season, but I didn't know too much about Horimiya before this anime season started. Apparently the manga was super popular, but that's all I knew about it. I was really, really pleasantly surprised by this show. Horimiya tells the stories of a few high schoolers from becoming friends, developing relationships, experiencing rejections and then in the end graduating. From what I heard the story skips quite a bit of material so it can fit the ending in one season, which means I might have to check out the manga at some point. I really like the characters in this show, they're all super likable in their own way, and the titular Miyamura and Hori steal the show. If I have one complaint about this show it's the fact that, spoiler alert, Miyamura ends up cutting his hair. I liked that he looked very different from your average protagonist in a way. Nonetheless, this show was a joy from start to finish and the colorful cast will remain memorable for a long time I think.