I know my Friday posts are reserved for manga related content, and some of it has been more about anime than manga, but there is other content coming, don't worry. I just wanted to get this post out because the manga is so dang good.
I believe we're all familiar with the concept of waifus and husbandos. It's 2021, get with the times. These are characters who we like. Either we like their design, their personality, or something they stand for. Some of us see it as fun banter, some take it a lot more serious. Either is honestly fine in my opinion. If it makes you happy and doesn't hurt anyone else in the process, then good on you. For me personally, calling someone a waifu is my way of expressing that it's a character I like. And somewhat recently, when the anime Wave, listen to me! aired, I added Koda Minare to this list. Let's delve into why I did so, and what this says about the anime and manga she is from.
Wave, listen to me! is the story of a young woman working at a curry shop. One night, she gets very drunk at a local bar and complains about her ex-boyfriend to a random stranger. The stranger, Mato, turns out to be a radio show producer, who uses her ramblings in one of his next radio shows. Minare finds out about this while working at the curry shop and makes a run for the studio. Being understandably angry with Mato, she threatens to sue him for using her voice without permission, only for her drunk self to have given him written permission on a napkin. You did this to yourself Minare.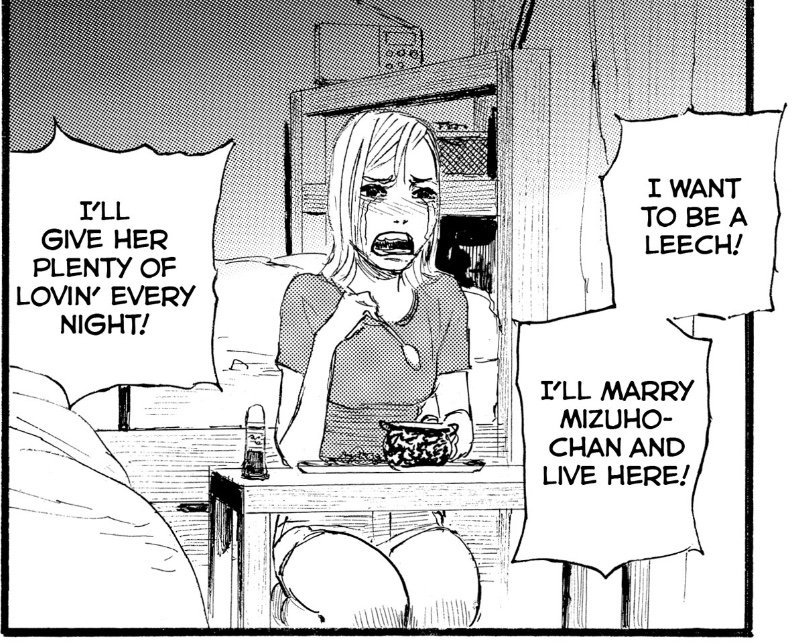 To make a long story short, after some convincing from Mato that she has a talent for ranting on the radio without stuttering, she decides to work with him. Working at a curry restaurant isn't her true passion in life, and she's very good at talking, so this might suit her. The story then follows her as she starts off as a radio host, her coworkers are snarky, and her roommate is so adorable she wants to make her a happy woman. There's romance involved as well, and even some intrigue surrounding a new coworker at the curry place. Turns out beginner radio doesn't quite earn you a living wage immediately, so Minare has to spend a little while longer working at the Voyager curry shop.
Now all of this is interesting in and of itself, and a big part of the supporting cast is interesting in their own way. Mato is a snarky boss who knows what he's doing after years of experience. Kureko is the gloomy script writer that's the backbone of the show. Nakahara, Minare's coworker at Voyager, is a very honest and kind man, although he definitely is chasing the wrong woman in this scenario. And Mizuho is precious. She's like a precious ray of sunshine filled with innocence and kindness. Some part of me wants Minare to make Mizuho into a happy woman eventually, but it looks like Mizuho has her sights set on someone. I won't go completely into spoiler territory on this end.
As good as the supporting cast is, this story would be a mediocre drama show at best without Minare. Voiced by Sugiyama Riho, known from smash hits like Conception and Ishuzoku reviewers, she absolutely nails the character. Minare does not give a f**k. That is very clear from the very first cover of the very first volume. She's living life her way, isn't afraid to say what's on her mind, and gets the job done. Her attitude is a breath of fresh air in a media where women are often shoved to the side. Not always of course, and this might be a side effect of the amount of shonen shows I watch, but they always end up taking a backseat. But not in this show. The women are the ones who are confident, strong-willed and taking a center stage. And Minare is front and center for the entire show.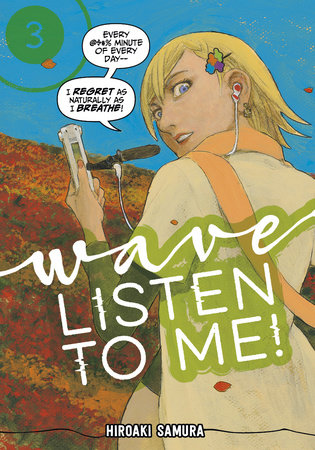 I'm currently awaiting the arrival of the fifth volume of the manga. I was hooked from the very start and it joined the short list of manga of which I'm keeping up with the volumes as they come out. I would highly recommend you give the anime a watch, since it's very good and as mentioned earlier, Sugiyama Riho truly does the role justice and I hope it catapults her into more voice acting roles. She's very talented. If you like the anime as much as I did, the manga is just as good, if not better. With 5 volumes released in English as of writing this, it's not an expensive series to start either, so what better time to get going than now.
Do you know other manga or anime with strong-willed women in the spotlight? It's something I find very refreshing to read and watch, and I'd very much welcome any recommendations. Or did you watch Wave, listen to me! and would you like to share your opinion with me? Please leave a comment down below, and share this blog with anyone who might find it interesting to read. It's much appreciated.