We're reaching the end of 2021 and it's been a banger of a year for anime. I was talking on discord the other day and said that Ousama Ranking was the best anime to come out of 2021. Someone then pointed out to me that Jujutsu Kaisen was this year and I had to rethink my comments a little. Technically it aired last year and this year, so it just depends if you count a show in the year it started or ended. But that was all the way back in January. It's December now and in about a week it'll be 2022. I plan to look at some shows in detail over the next few weeks, but for now let's take a look at three solid shows that aired this season that I don't have a ton to say about.
Blue Period
I had no expectations going into this show, but I do like a good drama show so I wasn't going to skip it. Blue Period surprised me though. It had very well rounded characters and didn't shy away from more progressive issues like gender identity. I consider myself very progressive (I haven't always, but we grow up and learn I suppose), and I think it's good that rigid gender norms are being put into question. At the end of the day we all got one shot at life, and it wouldn't be right if we judged people for wanting to feel comfortable in their own skin. The main focus of the story is of course Yaguchi realizing he wants to become an artist. I think art is something extremely satisfying so whenever Yaguchi gets excited I feel like I share in that feeling. My favorite thing about this anime, without a doubt, is the fact that his friends are so supportive of him. They're all introduced as a bunch of "bro's" but as soon as Yaguchi says he wants to be an artist and completely deviates from where he was headed, his friends support him 100%. That's great to see and made me tear up a bit. Highly recommend this show and I'm considering picking up the manga, assuming I can buy some translated volumes. Send help, I'm one step away from hoarding manga.
The Faraway Paladin
I like this show, I do, but I have a question for it that I can't seem to figure out the answer to.
Why the heck is this an Isekai? At some point I even forgot that it was an Isekai, but it is. Perhaps it will become clear later in the story, as the anime hasn't ended yet with a few episodes still left, and I haven't read the source material. But there seems to be no good reason for it to be an Isekai, Will could have just as well been a normal kid who grew up with three undead caretakers.
Putting that question aside for later, The Faraway Paladin follows a young boy who lives with his undead caretakers, and eventually sets out as a paladin to go do good in the world. I think the mystery of what is going on in the ruined city they live in, as well as the backstory of the three undead, Mary, Blood and Gus, is by far the most interesting part of this show. After that is resolved I feel like it trails a little bit. That could be because it's a middle part in a larger story, or just because it peaks early. Either way, it's a well crafted fantasy world with interesting characters and mechanics that is well worth your time.
Taisho Otome Fairytale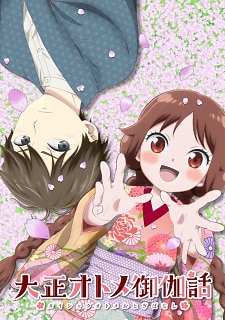 There isn't a lot I have to say about this show, so I won't. The story follows the heir of a rich family, Tamahiko, who is sent off to the countryside to live in the family's vacation home after his mother dies in an accident and he loses the use of his dominant hand. His father then buys a bride for him to live with, so that he'll leave the rest of the family alone. The story follows Yuzu and Tamahiko as they slowly fall for each other and she helps him recover from his depression. Yuzu is adorable and the side characters in this show are a lot of fun. If you like slice of life, fairly relaxing drama shows, this one is definitely worth a watch.