Hello everyone, good to see you back at round 3 of Quick Reviews. For this past season this will be the last quick review I'm doing. I watched a lot of good shows last season but if I spend all of this season reviewing old shows I'll never be able to write about anything else. Let me know if you want me to do this series every season, I've certainly been enjoying it. Gives me an excuse to watch a few shows each season as well. Well then, let's jump straight into it.
Kemono Jihen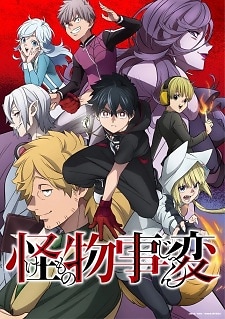 This show surprised me. The premise is quite simple: Inugami has a detective agency and is called to the boonies to check on something strange happening. This is where he finds our protagonist, Kabane. Kabane is a Kemono, and after losing his place to stay with his aunt he comes with Inugami to Tokyo where he meets several other Kemono. Together they solve mysteries. The heart of the show is in how fun the characters are. The main thing I really appreciated about this show is how it doesn't mind getting a bit darker. A lot of these shonen shows end up a bit on the light-hearted side, which is fine, but I appreciate the little darker tones this show has. Without going into spoilers, Akira's backstory is brutal and very dark. I'd honestly recommend this if you're a fan of decent shonen anime.
Log Horizon Season 3: Destruction of the round table
I wasn't going to include this one initially because it's a sequel and most people have their opinions on it by now, but after watching the show I did want to talk about it. When the first season of Log Horizon aired it was just off of the back of Sword Art Online's massive success. It was right at the start of the wave of Isekai shows and it was a very enjoyable show. I rated it quite highly back then. Unfortunately it is no longer 2013. Yes, I googled it and it's really 8 years ago, where did time go? Back then, Log Horizon was one of the better Isekai shows but since then a lot more shows have aired. And a lot of those shows were very good. Just recently we've had Tensura, Kumo Desu Ka and longer ago we've had shows like Re:Zero and Re:Creators. And I'd say all of those shows, and more, were better than Log Horizon.
Now that's not to say this show has no merit. It's got an interesting set-up, but I've honestly forgotten half of it. I didn't go back to watch the first two seasons, and honestly this season was mostly just confusing. It took me several episodes to get back into it and even then it felt a bit rough around the edges. I reckon if you watch all three seasons in a row it's a lot better, but that is ignoring the fact that a large part of season 2 wasn't too amazing. Overall I think that unless you're starving for Isekai shows, I'd probably skip this one.
Jujutsu Kaisen
Now this was undoubtedly one of the hottest shows of the past season. Technically started a season before, but because it ended in the Winter 2021 season I'm reviewing it now. For the few of you who missed this bombshell of an anime, Jujutsu Kaisen follows Itadori Yuuji who swallows one of Sukuna's fingers. Sukuna being the King of Curses who died and had his soul stuck in a bunch of relics. Yuuji, being the strange bloke he is, eats one for lunch and gets possessed by Sukuna. It's a bit more complicated than that, but you get the gist. After this he goes with Gotou Satoru, a very handsome man with a cloth in front of his eyes to go to Jujutsu Tech. To make a long story short, they fight these curses while also fighting back Sukuna's grasp on Yuuji. The characters are very well written and the story really pulls you in. This was easily one of the better shows that aired and I personally enjoyed it more than I did Attack on Titan. I like Attack on Titan, but there was something enjoyable about Jujutsu Kaisen that really sold me on it. I'll definitely read the manga in the near future.
What did you think of these three shows if you've seen them? Anything you disagreed on with me? Please let me know in the comments down below. Thanks for reading and I hope to see you all here again next season!